What is it about Kubu Island?
A fantastic opportunity to combine three nights at Jack's Camp with an epic quad bike journey across the pans and two nights spent sleeping out under the stars near Kubu Island.
This crescent shaped island has terraced slopes with fossil beaches of wave-rounded pebbles, providing startling evidence of the prehistoric lake's former water levels. Crowned with an array of ancient, gnarled baobabs and surrounded on three sides by a vast grey emptiness, Kubu has a unique atmosphere, and is one of the most graphically beautiful spots in Botswana.
What will I do here?
Explore Kubu Island and its surrounds.
Not far away is an ancient defence fortification that was only discovered a couple of years ago. Clamber to the top for an awe-inspiring view of the enormous Sua pan.
Visit the extinct mouth of the Zambezi, which, together with various other rivers, once flowed into the Pans. The remaining beach is covered with beautiful water-worn pebbles amongst which you can find semi-precious stones such as garnets and citrines.
Dryness of the pans permitting, travel to the end of the Great Rift Valley, a 400 foot escarpment that drops off into the Makgadikgadi Pans. This is the end of the greatest of all faults, which starts in Turkey and travels along the East Coast of Africa. The Rift Valley has been arguably the reason for the development of our species.
Kubu is close to what is probably the biggest greater flamingo breeding site in the world.
Flamingo fledge there when water is good and although nests are abandoned during the dry season, the acres of strangely shaped mud mounds are an eerie and strangely compelling sight.
How do I get there?
Fly to Johannesburg, and then on to Maun, Botswana. From Maun, you take a smaller charter plane to Jack's Camp. From Jack's Camp depart on quad bike for Kubu Island.

Where is Kubu Island?
In the southwest of Sua Pan, approximately 120 km from Jack's Camp. Due to the unpredictable nature of the seasons, which impacts on the dryness of the pans, each Kubu Expedition is unique, and the route is never quite the same. An expedition can cover 400 - 600 km.

Where will I stay?
Sleep out under the stars in comfy bedrolls.
What are the facilities?


12 Bedrolls.
Bucket shower & bush loo.
Drinks cabinet.
Tented changing area.
What will I eat?
Jack's Camp has a reputation for delicious, fresh and original food. The food prepared while at Kubu and is of the same delicious standard, laid out on white damask table linen, decked with fine glassware and bone-handled silver. Please inform the camp of any dietary requirements prior to travel - and confirm upon arrival.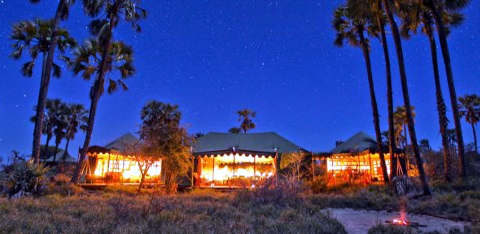 When is a good time to go?
Dry Season: Winter:15th May - 30th September
Please note: weather and activities can never be guaranteed.

Price per person: US$1700.00 per person based on a minimum of 4 guests Single Supplement : US$675

What does the rate include?
All meals, activities and beverages.
Not included in the nightly rate are premium beverages and discretionary tips/gratuities.

What do I need to know?

There is no electricity on Kubu Island.
All ages welcome at parental discretion.
You can charge camera batteries in the Jack's Camp Mess Tent: bring an adaptor for a round 3-pin plug.
2 Guests per quad bike.
Please note that there are no charging facilities on Kubu Island. It is advisable to bring an extra charged battery.
Water is a scarce resource in Botswana - so please try to conserve it where possible.
Stay hydrated! The water in Botswana is safe to drink.
What should I bring?
Layers - the best way to dress on safari, due to fluctuating temperatures. We recommend cotton. Long sleeves and trousers will protect from both sun and insects. Colours should be neutral (beige, khaki, tan…).
Fleece/warm sweater.
Hat - broad brimmed for protection against the sun.
Sunglasses - dark ones to cut the glare.
Goggles or ski sport glasses.
Sun block, insect repellent and lip salve.
Shoes - good, sturdy closed shoes or boots and socks for walking. Flip flops/thongs for use in outdoor showers. We recommend RM Williams 'Gardener Boots', Clarks 'Desert Boots' or Timberlands.
Head torch - handy in the evenings.
We recommend Petzl.
Binoculars - each person should have their own so as not to miss out on any sightings. We recommend Leica Ultravid 10x42 or Swarovski 10x42 WB EL.
Camera with spare batteries, memory sticks, film, and the correct charging apparatus.
A kikoi or light sarong has a multitude of uses.
A good book for those lazy afternoons.
It gets very cold in the evenings and early mornings, and quite hot during the day - so layers are essential.
Warm leggings - good to wear under trousers on the quads.
Hat - woollen beanie for warmth.
Gloves - good for cool winter evenings, quad biking and sun protection.
Scarf.